Since it is my first review of my all time favorite anime, I hope it get posted onto the site, heh.
Anyways, I looked around and decided to just follow the format on the actual website. Here goes...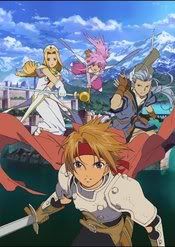 Story: 9/10
Character: 10/10
Music: 10/10
Animation: 10/10
Story:
Tales of Phantasia is about a small group of heroes on a quest through time to stop the evil king Dhaos from wiping the human race off the face of the world.
The story is completely based off of the original Tales of Phantasia game, with the same plot, characters, and timeline. However, as the entire anime is only four episodes, they could only take the important events that occurred within the game, and therefore it is difficult for someone who has yet to play the game to understand. The plot is very deep and involves many aspects of the human nature, causing the apparent roles of the characters to shift at the end of the anime.
Character:
The main character is Cless Alvein, a young swordsman whose entire village got massacred by those who wanted to revive Dhaos. Along with Mint, Chester, Arche, Klarth, and Morrison, fought against Dhaos.
The characters were very well developed for a four episode anime. From the revenge-driven Chester to the calm and collected Klarth, the roles of the characters fell into their positions quite nicely. The relations of the characters were also well designed, as their personalities fits perfectly with one another.
Music:
The Opening theme and the Ending theme are calm and fantasy-esque, which along with the wording, matches perfectly with the anime. The background music within the anime is well applied to the situation, allowing you to feel deeper into the character's emotion.
Animation:
The animation was the best of all the anime I have seen. I especially enjoy the cuteness of Mint and Arche. The fight scenes were superb, as you have both the huge army against army fights and the usual RPG style fighting, along with cool and powerful spells flying about. The landscape and cityscape were very well drawn, with beautiful castles and majestic mountains.
Comments:
It is highly recommended for anyone who had played the Tales of Phantasia game, for it will further enrich the game play. Overall, this is an exceptionally well made anime. Even if you have not played the game, it is still definitely worth watching.